Decorate with Halloween Rae Dunn
Did you know that Halloween Rae Dunn items are available each spooky season? When it comes to Halloween decor, the name "Rae Dunn" is synonymous with stylish and trendy pieces that add a touch of elegance to any home. With their distinctive minimalist design and charming typography, Rae Dunn decorations have taken the world by storm. If you're a fan of both Halloween and the signature Rae Dunn aesthetic these Halloween must-haves are perfect to create a stylish and spooky atmosphere in your home.
1. Ceramic Pumpkins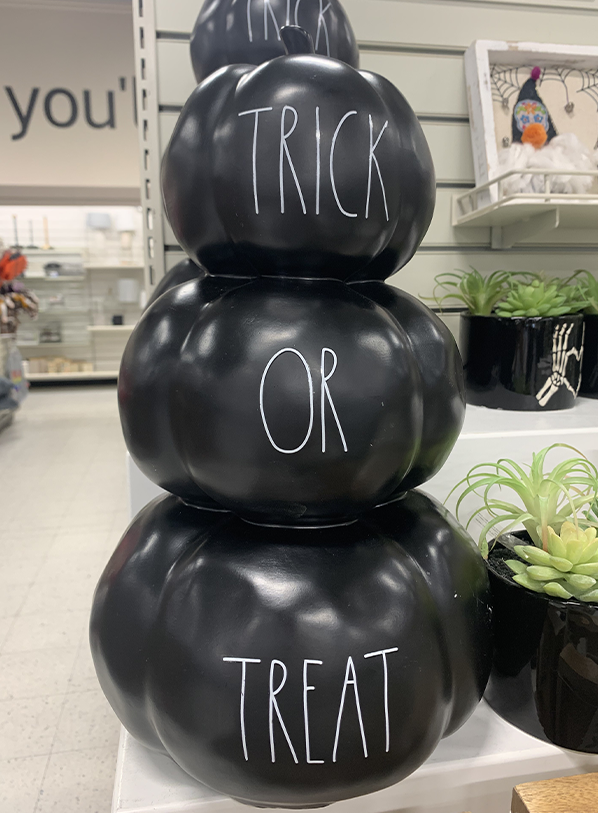 No Halloween decor collection is complete without pumpkins, and Rae Dunn's ceramic pumpkins are the epitome of chic simplicity. These ceramic pumpkins come in various sizes and colors, allowing you to create a stunning display that suits your personal style. Whether you opt for the classic orange or prefer a more subtle black or white, these pumpkins make a stylish statement on your mantel, coffee table, or front porch. The combination of Rae Dunn's iconic font and the timeless pumpkin shape creates a perfect blend of contemporary and traditional Halloween charm.
2. Witchy Mugs and Spooky Plates
Picture yourself sipping your favorite hot beverage on a chilly Halloween night. With Halloween Rae Dunn's witch-themed mugs, featuring words like "Spooky" or "Witch's Brew," you can add a touch of spooky whimsy to your morning routine. These mugs are not only functional but also serve as decorative pieces that add character to your kitchen. Pair these mugs with matching kitchen decor, adorned with phrases like "Trick or Treat" or "Eat, Drink, and Be Scary," to make your Halloween-themed parties even more memorable. Imagine serving spooky desserts or Halloween-inspired meals on these delightful plates, creating a cohesive and enchanting tablescape.
3. Ghostly Canisters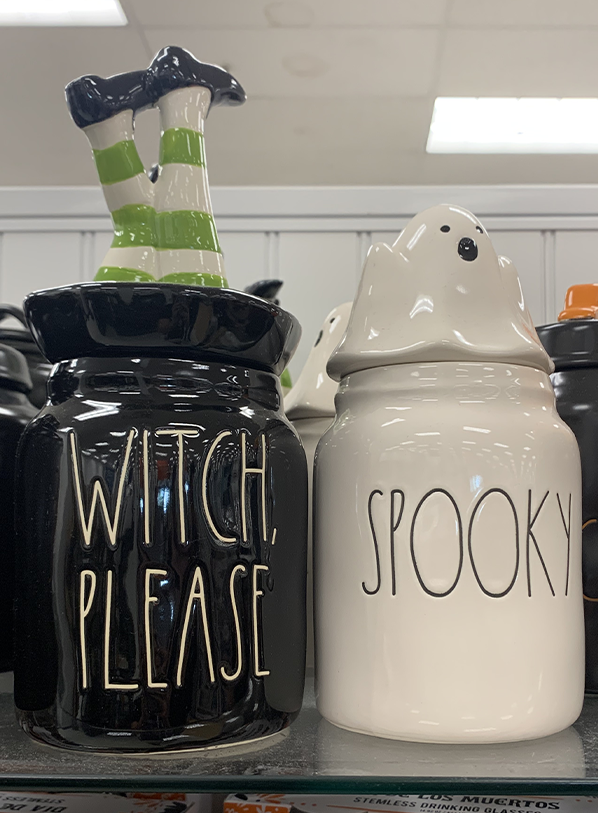 Halloween Rae Dunn's canisters are a staple in many kitchens, and their Halloween editions are no exception. These canisters, embellished with adorable ghost illustrations and phrases like "Boo," are perfect for storing Halloween treats, candy corn, or even spooky cookies. Not only are they practical for keeping your snacks fresh, but they also serve as charming accents for your kitchen decor. Display them on your kitchen counter or open shelves to infuse your cooking space with a dash of Halloween spirit. Guests will delight in the combination of functionality and whimsical design that Rae Dunn canisters offer.
4. Skeleton Tableware
If you're planning to host a Halloween gathering, why not serve your guests with some eerie elegance? Rae Dunn's skeleton-themed tableware, such as platters and bowls, adorned with skeletal designs and phrases like "Bone Appetit," will elevate your party's aesthetic while delighting your guests. These unique pieces are a conversation starter and add a dash of whimsy to any Halloween spread. Imagine presenting your Halloween-themed treats on a skeleton platter or serving punch from a skull-shaped bowl. Your guests will be captivated by the attention to detail and the playful yet sophisticated touch that Rae Dunn's skeleton serveware brings to the table.
5. Spooky Signs and Wall Art
Transform your walls into a hauntingly beautiful gallery with Rae Dunn's Halloween-themed signs and wall art. From phrases like "Trick or Treat" and "Boo!" to more elaborate designs like skeletal hands forming a heart, these pieces will create a festive atmosphere in any room. Hang them on your front door to welcome trick-or-treaters, in your living room to set the mood for movie marathons, or even in your bathroom to surprise and delight your guests. The versatility of these signs and wall art allows you to immerse every corner of your home in Halloween spirit. The clean lines, monochromatic palette, and expert craftsmanship of Rae Dunn's wall art make them a perfect addition to any Halloween decor collection.
Rae Dunn's Halloween decorations seamlessly combine the joy of the holiday with a touch of refined elegance. From ceramic pumpkins to ghostly canisters, witchy mugs, skeleton serveware, and spooky signs, each piece is thoughtfully designed to bring a touch of charm to your Halloween celebrations. By incorporating these must-have items into your decor, you can create a bewitching ambiance that will enchant both young and old alike.
Embrace the spooky season and let Halloween Rae Dunn decorations inspire your creativity as you prepare to celebrate Halloween in style. From the moment your guests lay eyes on these enchanting pieces, they'll be captivated by the marriage of sophistication and Halloween whimsy that Rae Dunn effortlessly brings to life. Get ready to transform your home into a hauntingly beautiful space that will leave a lasting impression on all who enter.