Introducing the limited edition 19 Crimes x Universal Monsters wine collection for Halloween 2023.
Attention all Halloween lovers and monster fans, get ready to elevate your spooky season with a thrilling collaboration that brings together rebellious wine brand 19 Crimes and the iconic Universal Monsters. Picture this: Dracula and Frankenstein, reimagined in a delicious Red Blend and Cabernet Sauvignon, making their debut just in time for Halloween.
19 Crimes Introduces Glow-in-the-Dark Magic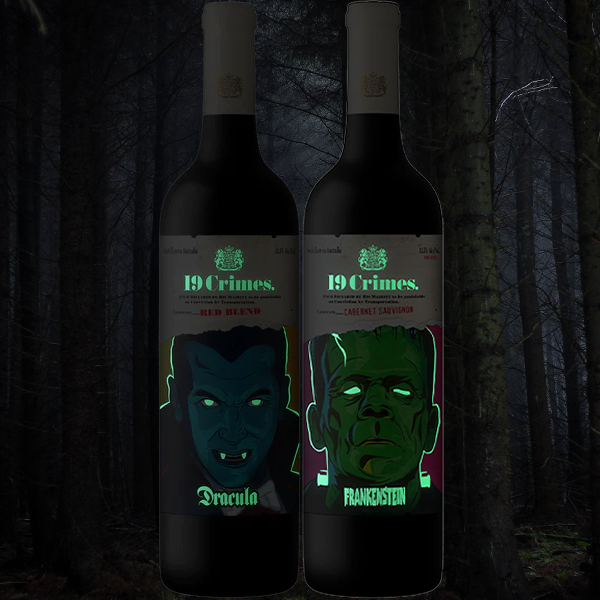 Step into the world of the undead with limited-edition bottles featuring glow-in-the-dark labels that add an extra layer of mystique to your Halloween celebrations. The bolts, scars, and fangs come alive in the dark, creating an eerie atmosphere that's perfect for your adult Halloween party.
AR Experience
But that's not all! Brace yourself for a boundary-pushing augmented reality (AR) experience that breathes life into these classic monsters. Simply scan the QR code on the back of the bottle, and watch as Dracula and Frankenstein share their spooky tales right before your eyes. It's not just wine; it's an immersive journey into the world of Universal Monsters.
19 Crimes Wine Experience Like Never Before
"19 Crimes and Universal Monsters is the perfect collaboration for Halloween and an opportunity to introduce 19 Crimes to brand new enthusiasts," says Treasury Americas Chief Marketing Officer, Carl Evans. "Experience wine in a rebellious but fun and engaging way, which is the heart of 19 Crimes."
Meet Dracula
Step into the shadows and welcome the enigmatic Dracula, a timeless vampire with over 500 years of intriguing tales. As a central figure in the golden age of Hollywood's classic monster films, Dracula embodies the allure of the undead. Universal Pictures, during this cinematic era, brought legendary monsters to life, and Dracula stands as a cornerstone of this iconic legacy.
In Universal's monster pantheon, Dracula symbolizes the misunderstood, the outsider, and the eternal enigma. Just imagine pouring a glass for this centuries-old guest at your Halloween gathering—no garlic, of course! Dracula's stories are bound to captivate and chill, making him the perfect companion for a night of mysterious revelry.
Meet Frankenstein
Enter the realm of the misunderstood as you welcome Frankenstein, the creation of Victor Frankenstein. Far from being a mere monster, Frankenstein's story is one of loneliness and longing for companionship. Universal Pictures, during its golden age, immortalized Frankenstein as one of the iconic monsters that defined an era of horror cinema.
Pour a glass for Frankenstein when your eight-foot-tall guest arrives at your Halloween soiree. Despite his imposing stature, he's not a creature to be feared but one who yearns for acceptance. The glow-in-the-dark elements on the bottle, including the bolts, forehead scar, and eyes, add a touch of Halloween magic to this Cabernet Sauvignon. Let the green glow on the Frankenstein bottle set the mood for a night of eerie enchantment.
Limited Edition Halloween Magic
These collectible 19 Crimes Halloween bottles are now gracing shelves until the end of October. Don't miss the chance to awaken the ancient Dracula and Frankenstein characters at your Halloween bash. It's not just wine; it's a collector's dream.
Where to Find Them
The limited-edition 19 Crimes x Universal Monsters Halloween bottles are available for a spooky time only on 19crimes.com and select retailers nationwide.
Elevate your Halloween experience with these spine-chilling sips that celebrate the rebellious spirit of both 19 Crimes and the legendary Universal Monsters. It's not just a drink; it's an invitation to a world where monsters and wine collide in the most delightful and mysterious way. Cheers to a Halloween filled with unforgettable moments and unforgettable sips!
Have you tried these wines? Let us know your opinion in the comments below.