Halloween-themed Easter baskets are a great way to add a spooky touch to your Easter celebration.
Easter is a time for bunnies, pastel colors, and all things sweet. But for those of us who love Halloween, this springtime holiday can be a little underwhelming. However, fear not! By combining the best of both holidays, you can create a fun and spooky Easter basket that any Halloween lover will enjoy.
Halloween-themed Easter baskets are a creative and exciting way to bring some spooky fun into your Easter celebrations. They can be filled with a variety of items, from Halloween candy to miniature toys and games, that can make this holiday even more fun for kids and adults alike.
Here are some ideas for what you can put in a Halloween-themed Easter basket. From classic Halloween treats to glow-in-the-dark items, there are plenty of options to choose from that can make your basket extra special. Whether you're hosting an Easter egg hunt or just looking for a fun way to celebrate the holiday, these ideas can help you create a unique and memorable experience for everyone involved.
Let's get started and dive into the spooky world of Halloween-themed Easter baskets!
1. Halloween candy
Fill the basket with spooky treats like gummy worms, chocolate eyeballs, or candy corn.
2. Miniature Halloween toys
Small toys like plastic spiders, bats, or pumpkins can be a fun addition to the basket. These items can be found all year online!
3. Halloween stickers and temporary tattoos
Kids love stickers and temporary tattoos, so why not include some with a Halloween theme?
4. Halloween and spooky-themed books
Look for Halloween-themed books appropriate for the age of the child. From picture books to chapter books, there are plenty of options to choose from.
5. Glow-in-the-dark items
From glow sticks to glow-in-the-dark stars, adding items that glow in the dark can make the basket extra fun.
6. Halloween costumes
If you're feeling extra creative, you can include a small Halloween costume or accessory like a witch's hat or a vampire cape.
7. Miniature pumpkin
No Halloween basket is complete without a mini pumpkin! It's a classic Halloween item that kids will love.
8. Halloween-themed crafts
Include supplies for making Halloween crafts like paper plate monsters, spider webs, or pumpkin painting kits.
9. Halloween-themed games
Add a spooky twist to classic games like tic-tac-toe, bingo, or memory with Halloween-themed versions.
10. Halloween-themed accessories
Add in some spooky accessories like black cat ear headbands or spider rings to complete the Halloween look.
Halloween-Themed Easter Basket Bonus Tips
If you are looking to add a special touch to your basket here are a few tips to make your Easter feel extra spooky.
Tip 1:
Use Halloween colors when selecting basket crinkle. Crinkle comes in a wide variety of colors! Fill baskets with orange, black, lime green, and deep purples.
Tip 2:
If your guests are adults, you can include little bottles of alcohol or hot sauce in fun skull shaped bottles.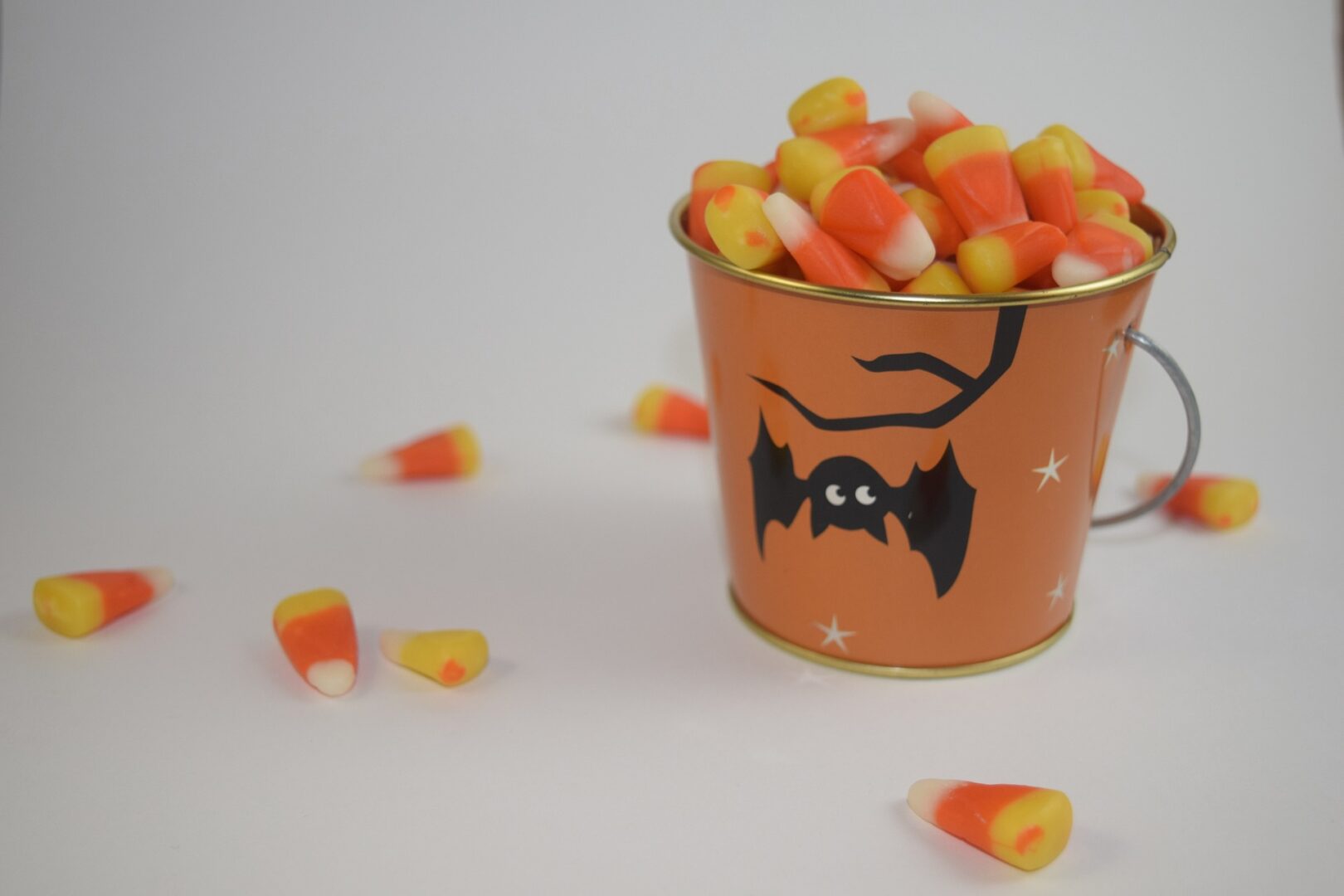 For a Halloween-themed Easter, you can fill your basket with creepy treats like chocolate eyeballs, gummy worms, and skull-shaped candies. You can also include some spooky Easter eggs that are painted black and decorated with creepy crawlies, spiders, and bats. To add an eerie touch, wrap your basket in black and orange ribbons or even use some Halloween decorations like fake cobwebs and plastic spiders.
You can also get creative with the basket itself and choose one that fits the Halloween theme. For example, a black or orange basket with a spooky design like a skeleton or a witch hat would be perfect. Additionally, you can add some Halloween-themed toys, like mini plush monsters or a tiny haunted house figurine, to complete the basket.
A Halloween-themed Easter basket is a fun and unique way to celebrate the holiday for those who love all things spooky. Don't forget to share your creations with us by tagging us on social media or leaving a comment below.